Barry the Beer Guy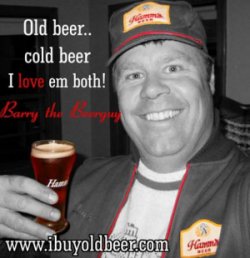 Well,if you've clicked this far,you must want to know who I am. My name is Barry, and this all started as a fourth grader, walking the ditches of southern Minnesota, picking up aluminum cans for spending money with my buddies. After one productive afternoon, we dumped our booty onto the grass and started sorting the cans. I was building my Schmidt scenic collection, but that day I'd found a brand I'd never heard of-Alpine from Wisconsin.

After that, I started to keep any brand that was different, and stacked them in a pyramid in my room. After a fewloud tin avalanches,my Dad and I built wooden shelves. I went to the Marigold Days flea market in Mantorville that fall, and two teenagers were SELLING their cans. It was then that I learned I was not alone. My Dad started keeping his eyes open for me, and got a kick out of bottom opening the full cans and samplingthem. (all in the name of helping his son,of course) He found a full six pack of Gluek silver growlers that made me the star of my first trade session in Rochester.My collection really took off after that- after all, a cone top can got your 40 CURRENT CANS in those days.
I stored the cans in boxes during my lean college years. Until the ultimatum came over the phone "Either you get these *@#*! cans outta' the garage, or we're throwing them out!" It brought back a lot of memories going through those boxes again. (I probably recycled 90% of them!) But the few good cans I had started me back collecting again.With a family and limited space to display,I concentrate on the OLD and unique now. I specialize in items made before 1960-signs made of metal and glass,cans that took an opener to drink from and stuff that wasn't made by the millions. I'm just a caretaker of this stuff for the decades I'll have it. Its a harmless and fun hobby filled with interesting people and stories.Thats why I started this website...to meet more of them!
Barry the beerguy
Who we are
We are passionate collectors of vintage beer stuff. Since we both live in Minnesota, we are partial to items from the Midwest. But we are friends with collectors from around the world. If we don't need it, we probably know someone who does. Or...someone who may live near you and could make an appraisal or pick up your item in person. This hobby is full of generous and knowledgeable folks. Where there is a will, we'll find a way.
We are both longstanding members the national and local beer collecting groups, write articles/cartoons for them, and are on the pulse of current values and information. If we don't know, we'll find out. We'll never claim that we will pay the most,(there are times we have though) but if you want a hassle-free transaction, with guys that will truly appreciate your item(s), paying fair prices, you've found us.
If you want to sell an item to us, here is how it works.
Email, text or mail us pictures of your item. We'll judge it's condition and whether we want to add it to our collection. We'll let you know what we are willing to pay for it. Once we agree on a price, we'll either mail or Paypal you the funds...AND we will pay the shipping costs too. There may be times where it will require a professional to do it-don't worry, we are happy to pay these additional costs to get it here intact.
We will pay top dollar for collection items, but we also buy items or collections for resale and trade. We attend a few collectible shows each year, and it's great to have new stuff to sell. And if you've been given or had a collection passed down to you, it's best to sell it complete. That way you don't get left with the junk. We buy collections and will travel to assess or pick them up.
In short, we try to treat folks fairly. Our business depends on relationships and making you happy. When you find more beer memorabilia, we'd love you to come back here. If you'd like references, we'd be happy to connect you with folks we've made smile.
Old beer and cold beer... we love em' both!
The ibuyoldbeer boys-
Barry Travis & Stevan Miner