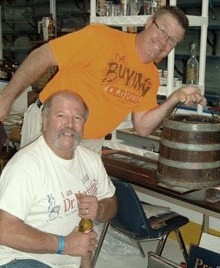 Stevan Miner has been collecting Hamm's beer advertising of all types for over 35 years. How serious is he about Hamm's? Does having a full bear costume, a complete 3 pc. Hamm's logo suit and a bear tattoo on your arm prove it? I met Steve through eBay about 15 years ago when I sold him an extra sign I had. Since then, I consider it quite an accomplishment to put ANYTHING on his shelves, or to surprise/stump him with something he hasn't seen before. He has everything from a Hamm's thimble up to full size porcelain outdoor neon signs and everything in between. If you have anything that says HAMM'S on it, theres a good chance he has it. If not, he'll pay you a fair price and tell you what he knows about it. In his words "I've been called a lot of things...but cheap ain't one of em!"
Now that you know WHO the Dr. is, let me tell you WHAT he is
The good Doctor has many irons in the fire-and speaking of fire, he's trained as a fireman, EMT, master mechanic, jukebox and Hamm's sign restorer and muscle car/ Harley lover who treats people like he'd want to be treated. He's so serious about the jukeboxes and Hamm's that he has a building devoted to the restoration of both.(In fact, many people compliment him on his fine collection, until he tells them that this is only stuff he's repairing!) His collection fills a garage and three rooms-if you are lucky enough to buy a sign from him, he'll give you a guided tour of his collection and cold beer. And you'll have lifetime service on that sign.
What he DOES
When the Dr. sells ANYTHING, its been treated with care, passion and attention to detail. One look at his classic Mopars will tell you that. He'd be the last person to brag about his work, so I'll take care of this. Any sign he sells has been taken apart, cleaned, repaired and tested to better than new condition. If he's installed or sold a replacement part, its done right to match the original. If you've admired a classic Hamm's moving water sign and have always wanted to buy one, he's your guy. But here's the deal, Shaquille...you'll need to COME TO HIM. But why, you cry?? The "survival in shipping rate" is below 50% for these fragile, plastic signs. No matter WHICH shipper we use. Too many classic Hamm's signs have survived 50 years only to be trashed by a week in transit. Seriously. Need proof or pictures? Call him. Steve lives in the tiny town of Winnebago, Minnesota. Which is 10 miles north of Blue Earth off I-90 in SE Minnesota. We may be able to meet somewhere in between, and we've connected folks with signs in creative ways….BUT WE WILL NOT SHIP THEM to a fox, we will not ship them in a box. We will not ship eggs nor Hamm's, we will not ship them to Sam in Siam. He can tell you countless stories (tragedies) of shipping failures if you have the stomach or time.
What we SELL
Quality parts, advice and restoration services. But here is another disclaimer. This is NOT his day job and your sign or parts ARE NOT a life-threatening situation. He will answer his phone or email if he is able. But texting and emailing hourly will work against you. Beer people are great people, but they can also be weird, rude and unreasonable at times. Don't be that guy. Steve is not getting rich doing this, and there are times when you'll need to remember "It's only beer stuff" and maybe HAVE a beer while repeating this. You are in good and knowledgeable hands. He'll take care of you if he can. Your timeline is not his. He uses his precious weekends to do this. Understand…relax and be patient. Reread this paragraph is necessary.
The good Dr. has a WIDE variety of Hamm's replacement parts available, but there may be times when a sign may be BEYOND repair or parts aren't available. He accepts Paypal or money orders, checks or beer (old or cold) in trade. If you've read this far, you're as serious about Hamm's as he is! Search out ibuyoldbeer on Youtube to see Stevan in action. He'll treat you fairly, and I'm proud to call him my friend...CHEERS!
Please EMAIL US for our current stock of vintage Hamm's and brewery related advertising. This stuff doesn't grow on pine trees, but we DO live in the Land of Sky Blue Waters, and dredge these waters regularly for vintage nuggets.
The ibuyoldbeer boys – Barry & Stevan