Well, this is where MY beer can collection started, and every kid (in Minnesota at least) had to complete the set of Schmidt scenics. But 90% of the scenic cans are worth between .10 and a buck each. Most people saved a set from G. Heileman Brewing of LaCrosse WI. They are crimped slightly before the can connects to each rim.But the most collectible versions are the oldest ones from Jacob Schmidt Brewing Co. in St. Paul MN.
The paintings/scenes on these cans were done by MN wildlife artist Les Kouba,and the original set of 17 cans were made in the early 1950's(?) with a lid that had to be pierced with a can opener or church key to drink. These cans had a shiny gold metallic border around the Schmidt logo on the front and 2 vertical metallic bands on the back seam (pictured). These cans were also made it with a rolled lip with an attached handle for drinking cups. They were also available in a "zip" tab top which were the first attempt at a pull off opener. Both of these types are hardest to find in NICE shape,as the metallic finish is prone to spotting and blemishes.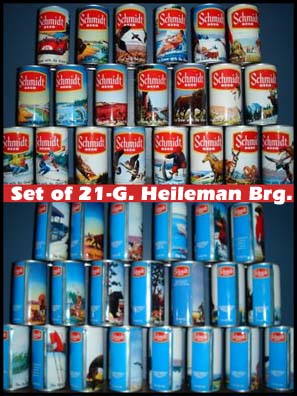 There are two variations WITHOUT the metallic borders that are also collectible. These have a WIDE white or yellow back seam on the rear of the cans. There were 17 in these sets of cans and they have value, in good condition.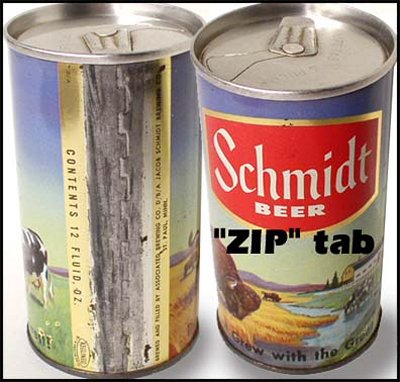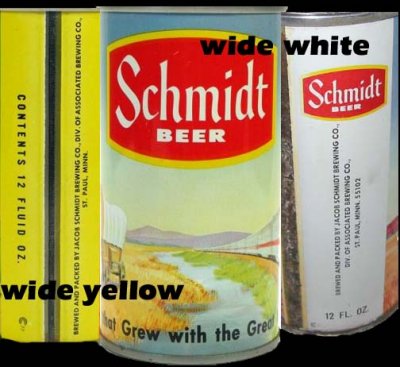 Here are the list of breweries that made Schmidt scenic cans:
»Jacob Schmidt Brewing Co. 1933-1954
»Pfeiffer Brewing Co., DBA Jacob Schmidt Brewing Co. 1954-1962
»Associated Brewing Co. 1962-1972
»OR-Pfeiffer Brewing Co. 1962-1972
»Jacob Schmidt Brewing Co. 1962-1972
»G. Heileman Brewing Co., Inc. 1972-1990
»Ranier Brewing Co. 1989-92? (THESE were aluminum)

I have no interest in G. Heileman cans,I have hundreds and have recycled thousands.But if you've found some of the early cans,they could be worth a buck up to 25.00 apiece! (your trash is my treasure-remember, I'm a phone call or email away...
Barry the beerguy